DUAC201 with Omni Antenna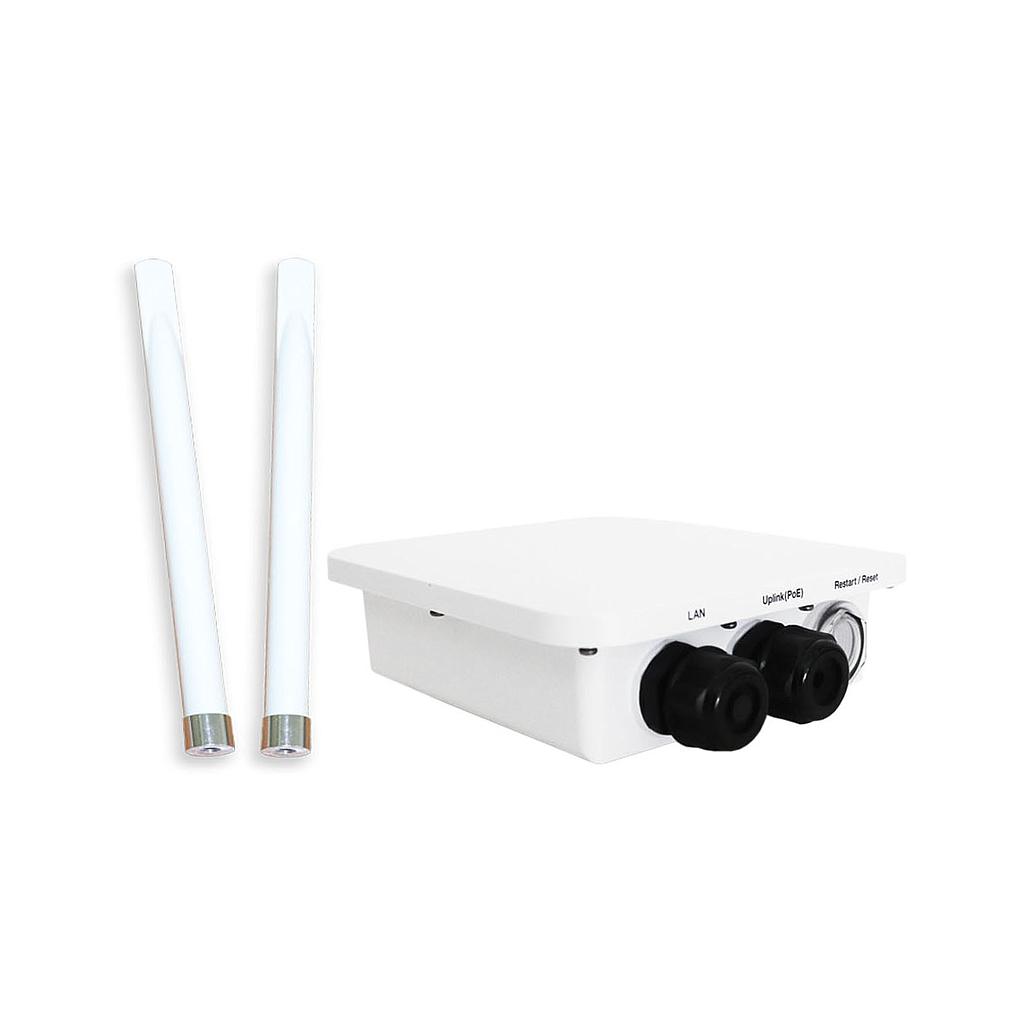 DUAC201 with Omni Antenna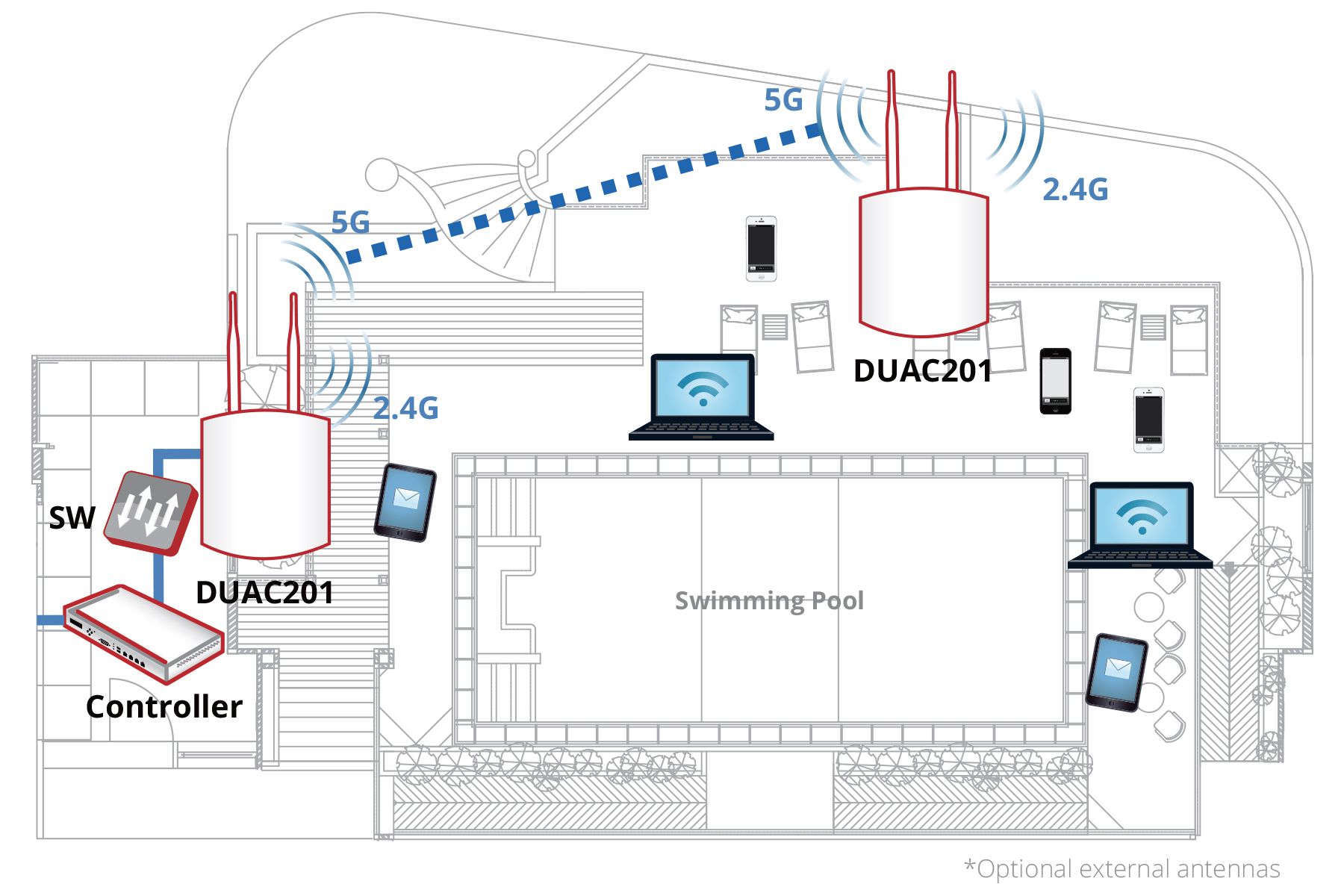 Key Features:
1. Dual-radios Outdoor AP IP68 rating compact enclosure
2. Current dual-band 802.11ac, 2x2 MIMO, up to 1.2Gbps data rates
3. Gigabit port with 802.3at PoE uplink and gigabit LAN ports
4. Operating modes: AP, WDS, Universal Repeater
5. Fast Layer2/Layer3 roaming6. Enterprise-grade wireless security
7. 32 ESSIDs with 802.1Q VLAN
8. Per User and WDS Link bandwidth management
9. 2 x SMA-type connectors for 5Ghz external antennas
10. Built-in 2 x 3dBi 2.4Ghz Omni chip antenna
11. Layer-2 Wireless Firewall
12. Ideal last-mile solution for ISP(WISPs) outdoor deployment  
DUAC201
with Omni Antenna
 · Is a dual-band 802.11ac outdoor access point ideal for providing outdoor Wi-Fi coverage, Point-to-Point and Point-to-multi network.
· DUAC201 is compliant with the latest industrial wireless security standards such as 802.1X,  WPA and WPA
· Cost-effective, High-power, Rugged IP68 rating 
· Dual-polarization to avoid interference
· DUAC201 also features multiple ESSIDs with VLAN tags and multiple Virtual Aps.
· Standalone per user and per WDS bandwidth management features.
· Features multiple ESSIDs with VLAN tags and multiple Virtual APs
· 360° beamwidth, up to 30-50 meters.
· 802.11 a/c band 4.9-5.845 GHz global compatibility.
· Up to 300 and 867 Mbps data rates in the 2.4 and 5 GHz bands.
· Up to 23 dBm in 2.4 GHz and Up to 22 dBm in 5 GHz.
· Featuring 2x2 MIMO high-throughput & diversity
· Powered by 802.3at 
Specification
Radio

Standards

◈ 802.11 a/b/g/n/ac

◈ Concurrent dual-band 2.4 & 5 GHz



Supported Data Rates

◈ 802.11ac: 6.5 – 173.4 Mbps (20 MHz)

◈ 802.11ac: 13.5 – 400 Mbps (40 MHz)

◈ 802.11ac: 29.3 – 866.6 Mbps (80 MHz)

Radio Chains

◈ 2 x 2

Spatial Streams

◈ 2


RF Output Power*1

◈ 2.4 GHz: Up to 23 dBm*

◈ 5 GHz: Up to 22 dBm*

Channelization

◈      20MHz, 40MHz, 80MHz


Frequency Band

◈  2.412–2.472GHz

◈  5.180–5.825GHz


Operating Channels

◈ 2.4 GHz: 1 – 11 (US), 1 – 13 (Europe), 1 – 13 (Japan)

◈ 5 GHz*3: 36 – 165 (US), 36 – 140 (Europe), 36 – 140 (Japan)

ESSIDs

◈ Up to 16 per radio (32 total)

Certifications

◈ FCC (United States)
Omni Antenna
ELECTRICAL CHARACTERISTICS
Frequency Range

2.4 - 2.5 GHz

5.15 - 5.85 GHz

Gain

4.51 dBi (2.4 GHz)

5.58 dBi (5 GHz)

Polarization

Linear




VSWR

2.4 - 2.5 GHz: ≦ 2.0

5.15 - 5.85 GHz: ≦ 2.2

Vertical Beamwidth

360°

Horizontal Beamwidth

360°

Impedance

50 Ohm

Efficiency

2.4 - 2.5 GHz: 68 %

5.15 - 5.85 GHz: 63 %

Connector

RP-smA (male)