DUAC201 with Panel Antenna, Low loss cable and Omni Antenna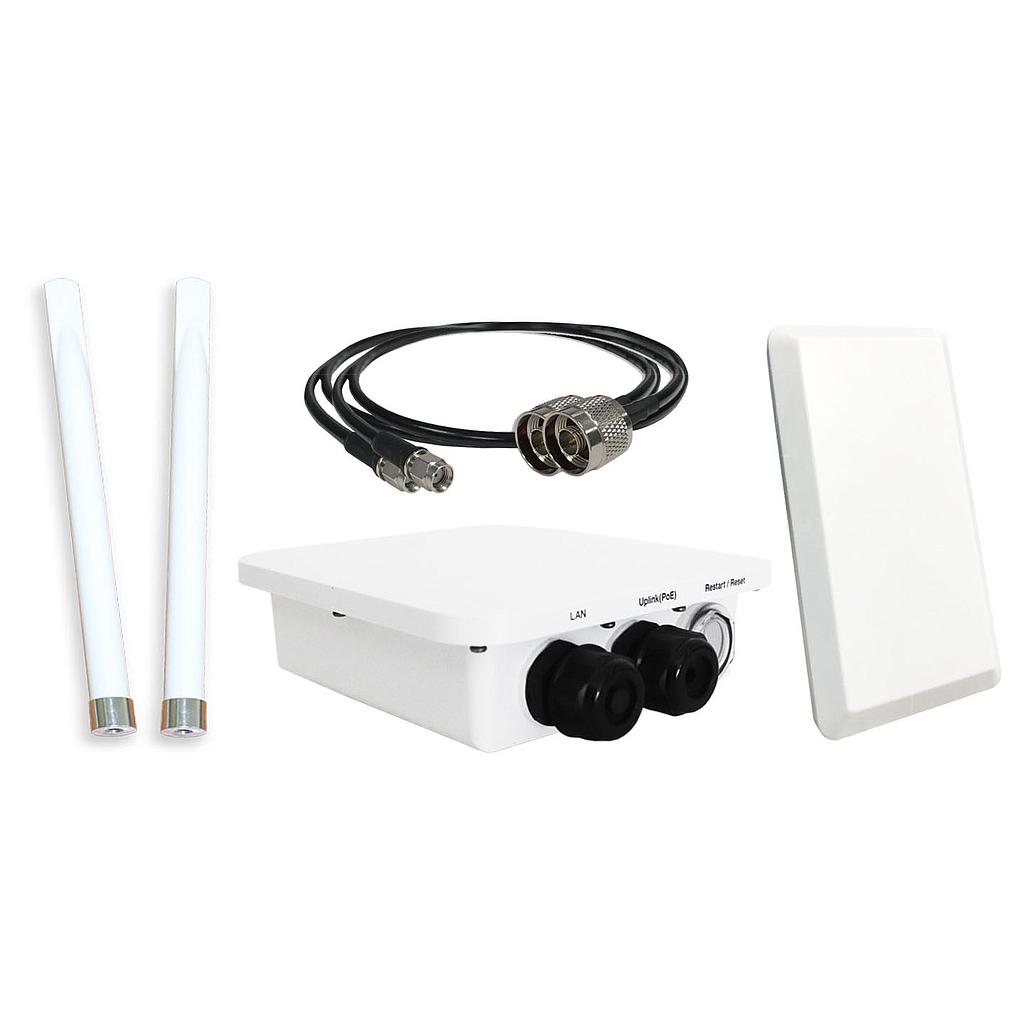 DUAC201 with Panel Antenna, Low loss cable and Omni Antenna
---
Dual-band Dual-radios Access Point with 5Ghz 15dBi Dual-polarized Panel Antenna, two Low Loss and two 5Ghz/2.4Ghz Dual-band 5dBi Omni Antenna
  The Complete Wireless Last-mile Solution Package for ISP/WISP/Cable Operator  
        The E-NetData DUAC201 is a concurrent dual-band 802.11ac outdoor access point ideal for providing outdoor Wi-Fi coverage and network access to equipment in remote locations such as IP video surveillance cameras. Featuring two 2x2 radios, the DUAC201 can simultaneously support up to 300 and 867 Mbps data rates in the 2.4 and 5 GHz bands respectively. 
        On top of that, with the standalone per user and per WDS bandwidth management features, DUAC201 can manage the user and WDS bandwidth more precisely and efficiently.
Wi-Fi
Concurrent Dual-Band 2.4 & 5 GHz
Supporting up to 1.2 Gbps data rate
Support up to 32 ESSIDs.
Enterprise-grade Wireless Security
PHYSICAL
 Simple installation with pole/wall mount
 Compact IP68 enclosure
 802.3at PoE Uplink Port
External Antennas with SMA connector (5G)t
SPECIFICATIONS
 PHYSICAL

Power
• PoE. 802.3 at comliant or 42.5 - 57V / 0.4A
Dimensions
• 16.3 cm (L) x 16.3 cm (W) x 4.7 cm (H)
Weight
• 0.35 kg (0.77 lbs)
Interfaces
• Uplink: 1 x 10/100/1000Base-T Ethernet, Auto MDIX, RJ-45 with 802.3at PoE
• LAN: 1 x 10/100/1000Base-T Ethernet, Auto MDIX
LED Indicator
• 5G/2.4G/Power
Buttons
• Restart/Reset
Environmental Conditions
• Operating Temperature: -10C (14F) to 50C (122F)
Power Consumption
• 16 W max
Antenna
• Gain: 3 dBi (2.4 GHz), N/A dBi (GHz)
Mounting

• Wall/Pole Mount (Hose Clamp Included)

Wi-Fi

Standards
• 802.11 a/b/g/n/ac
• Concurren dual-band 2.4 & 5 GHz



Supported Data Rates
• 802.11b: 1, 2, 5.5, 11 Mbps
• 802.11 a/g: 6, 9, 12, 18, 24, 36, 48, 54 Mbps
• 802.11n: 6.5 - 144 Mbps (20 MHz)
• 802.11n: 13.5 - 300 Mbps (40 MHz)
• 802.11ac: 6.5 - 173.4 Mbps (20 MHz)
• 802.11ac: 13.5 - 400 Mbps (40 MHz)
• 802.11ac: 29.3 - 866.6 Mbps (80 MHz)
Radio Chains
• 2 x 2
Spartial Streams
• 2
RF Output Power
• 2.4 GHz: Up to 23 dBm*2• 5 GHz: Up to 22 dBm*2
Channelization
• 20 MHz• 40 MHz• 80 MHz
Frequency Band
• 2.412 - 2.472 GHz• 5.180 - 5.825 GHz
Operating Channels
• 2.4 GHz: 1-11 (US), 1 - 13 (Europe), 1 - 13 (Japan)
• 5 GHz*3: 36-165 (US), 36-140 (Europe), 36-140 (Japan)
ESSIDs
• Up to 16 per radio (32 total)
Certifications
• FCC (United States)
SPECIFICATIONS
 ELECTRICAL CHARACTERISTICS
| | |
| --- | --- |
| Frequency Range |    • 4.9 - 5.875 GHz   |
|   Gain    |   • 15 dBi   |
|   Polarization    |   • Dual Linear, V+H   |
|   VSWR    |   • 1.6:1 max.   |
|   Max. Power Input    |   • 10 W   |
|   Impedance    |   • 50 Ohm   |
|   BW/Azimuth   |   • 30° (both ports)   |
|   BW/Elevation    |   • 30° (both ports)   |
|   Isolation   |   • >20 dB typ.   |
|   Connector    |   • 2 x N Jack (female)   |